Intelligent technology is the development trend of automation technology, intelligent industry demand. With the acceleration of the integration process of industrialization and information technology, intelligent industry with the typical characteristics of intelligent design, intelligent manufacturing, intelligent operation, intelligent management and intelligent decision-making will become a new development direction of all industries. Modern industrial production will develop towards the direction of automatic production. When intelligent technology gradually becomes the mainstream consciousness, it will be the development trend of industrial production to intelligent production from automatic production. There is no doubt that intelligence is the development direction of manufacturing automation. Artificial intelligence technology is widely used in almost every step of the manufacturing process. Automation technology, as one of the important technologies in the industrial field in the 20th century, mainly solves the problem of production efficiency and consistency. Whether it is a large enterprise pursuing high speed, continuous and large quantity, or a central enterprise pursuing flexible and flexible customization, it all relies on the application of automation technology.
In the process of processing by the industrial computer control, parts of strong interchangeability, processing speed. Compared with traditional processing equipment, industrial PC improves resolution and reduces human error, so the processing efficiency can be greatly improved. At the same time, because of the use of automatic control mode, in the operation of CNC machine tools, only need to monitor the running state of the equipment, so the labor intensity is greatly reduced.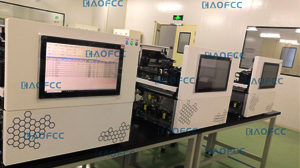 & have spent & have spent & have spent & have spent & have spent & have spent & have spent & have spent
Industrial PC requirements for system control equipment & NBSP;
1. Smooth operation of high-parameter configuration
2, with touch mode, support glove touch mode
3, multiple USB ports, high speed data transmission
4. Integration of all-in-one machine equipment and cabinet, fitting and installation
5. All-in-one machine can start and stop without opening cabinet door
& have spent
& have spent
Mingyikai intelligent 15-inch Windows all-in-one computer to achieve the following functions: & NBSP;
1. J1900 motherboard + onboard i5 CPU, 4G memory +64GB SSD, ensuring smooth operation of customer software
2. Equipped with capacitive touch mode, response speed is 5ms, support multi-touch, high precision, no drift
3. RS232*2+USB*4 is configured to meet the data communication requirements of CNC automation equipment
4, ultra-thin 3mm front panel, embedded installation, integration with the cabinet, beautiful, save space.
5. After the installation of embedded equipment, the all-in-one machine can be started and stopped without opening the cabinet door
& have spent